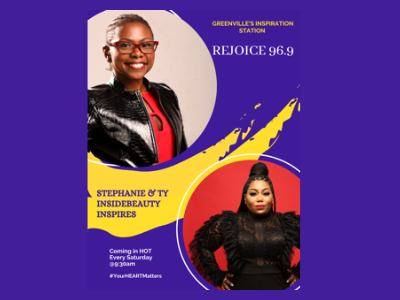 Inside Beauty Inspires takes on real life experiences and introduces the Word of God to help believers to navigate peaks and valleys fearlessly. Real, raw, & relevant, Inside Beauty Inspires seeks to unleash a fresh anointing in the atmosphere. Our goal is to connect our listeners to "the plug", Christ Jesus, a savior who has paid the price for all of our sins and wants nothing more than to see His children win!
Sponsored By:
---
About Stephanie:
I am a Certified MUA, Lash Artist and Fitness Trainer, but the role I am most proud of beyond mother is being a shepherd of the kingdom.
When I say that I love God, I truly do and, in my quest, to build a deeper, more intimate relationship with Him, in 2018 God asked me to start a Prayer Group. Proverbs 27:17 says as iron sharpens iron, so one person sharpens another. ISI is the name of that prayer group. Iron Sharpens Iron, we sharpen each other!
For 3 year I've gotten up each morning with a group of ladies who are devoted to Seeking His Face. Seek ye first the kingdom of God, and his righteousness and all these things shall be added unto you- Matthew 6:33. This amazing group lives this by joining the call every morning 6am. It is a sacrifice that we see fruit from.
The call is a perfect formula for uplifting inspiring and encouraging one another using the Bible, daily affirmations, and the power of prayer.
We are going innnnnnnn! In depth, in focus, INSIGHT to what really matters.
The wisdom in Proverbs 3:5-6 is necessary for every situation you face in life.
"Trust in the Lord with all your heart And lean not on your own understanding; In all your ways acknowledge Him, And He shall direct your paths".
#YourFaithMatters Stay Focus
Stephanie Fowler
About Ty:
Ty is an engaging personality whose focus in life is Faith, Family, & Fellowship. Saved at age 6, baptized at 13, there is a call on her life to preach God's word that she initially shunned. Studying Broadcast Journalism at the University of SC, her dream was to anchor prime time news and eventually have her own talk show. Corporate ambition placed her on a different path. Having been in leadership for the past 11 years, Ty found herself unofficially ministering on the job to direct reports, colleagues, and superiors alike. A life changing sermon from Pastor Ron Carpenter of Redemption lit a fire for God over 10 years ago, that burns passionately today. Often called the voice of reason for her ability to look beyond her own point of view, Ty is a proud woman of God. Wife, mother, leader, fashionista, entrepreneur, she is His Child all the while. Always dressed for success, with a sharp mind, & quick thought, she IS Poise on Wit. No matter what life may bring her way, Ty is committed to 'hallelujah anyhow'! With her motto "be the light" Ty is looking to brighten your Saturday mornings as part of the dynamic duo bringing you Inside Beauty Inspires, only on 96.9 Rejoice, the Upstate' s Inspiration Station.