Black History Month: Lonnie Johnson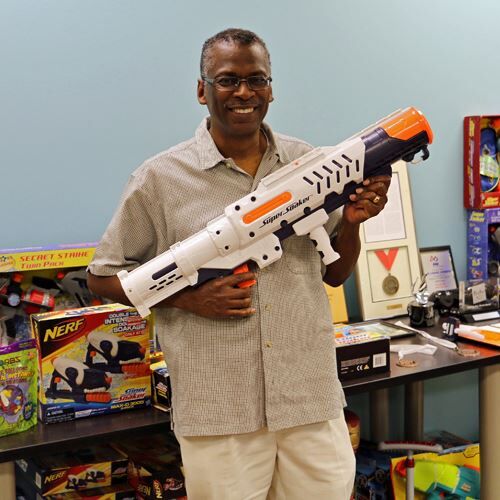 On October 6, 1949 an inventor was born in Mobile, Alabama. Lonnie George Johnson was born to a nurse's aide (mother) and a WWII vet (father). At a young age, Johnson's father taught him and his siblings how to build their own toys. By the time he was a teenager, Johnson had a curiosity for how things work. His mother stated that he once ripped his sister's doll open just to see what made the eyes close. When he was about 13 years old, he created a go-kart out of scraps. Johnson has many stories about his creativity in his youth. By the time he was in high school, it was clear to him, that he wanted to be an inventor.
Johnson grew up during a time where segregation was still legal and attended Williamson High School, a black school, in Mobile. He would later be selected to represent his school in a science fair that was held at the University of Alabama at Tuscaloosa in 1968. He won first place with his robot named "Linex." Despite his clear level of knowledge, many people tried to detour him from pursuing a career as an inventor due to the discrimination of the time, but Johnson was determined. He looked to George Washington Carver for his inspiration and drive to pursue the impossible. Once he graduated high school, he furthered his education at Tuskegee University where he received both a Bachelor's degree and a Master's degree.
After receiving his degrees, Johnson began working for the US Air Force before starting his noteworthy time at NASA. He was responsible for many breakthroughs at NASA before starting his own company in 1991. It was during the 1990s that he created one of his most famous inventions, the Super Soaker water gun. He would later become responsible for the creation of the Nerf Gun which is produced by Hasbro. He filed a law suit against Hasbro in 2013 once he discovered they were underpaying him royalties for the Super Soaker and Nerf Gun toy lines. Later on that year, Johnson was awarded a royalty check of close to $73 million from Hasbro.
Lonnie George Johnson is a literal living legend and is responsible for putting smiles on the faces of millions of children. There is so much more to learn about this man, and I encourage every reader to find out more about him in your spare time. One thing I learned from his story is that no matter how smart or successful you are, people will always find a way to put you down. I also learned that once you reach success you still need to be vigilant so that people are doing right by you. We should all allow his life, story, and legacy inspire us to go forth and be great.