Black History Month: Bessie Coleman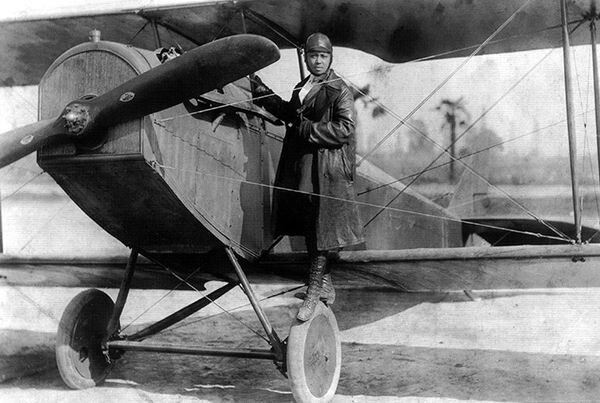 Bessie Coleman was always seeking adventure, even through a mountain of adversity, eventually becoming the first African-American and Native-American woman to receive a pilot's license. Born on January 26, 1892 in Atlanta, Texas, Bessie was the tenth child of George and Susan Coleman. Her father's grandparents were Cherokee and her mother's were black. The family moved to Waxahachie when Bessie was two and worked as sharecroppers. At age 18, Bessie enrolled in the Oklahoma Colored Agricultural and Normal University in Langston, Oklahoma, but had to drop out due to financial reasons after one term.
At 23, Bessie began her path that would eventually lead to the skies. She moved to Chicago with her brothers and worked as a manicurist at the White Sox Barber Shop. There, she was inspired by the stories of air battles from pilots returning from World War 1, and she took a second job to save money in hopes to become a pilot one day. At the time, American flight schools did not accept women or black people, so she was encouraged to study abroad. With the help of Robert S. Abbot, publisher of the Chicago Defender, Bessie was able to join a flight school in Paris, France. On June 15, 1921, Bessie earned her pilot's license from the Fédération Aéronautique Internationale and spent the next two months training under a French ace pilot.
When Bessie returned to America, she became a sensation. She soon realized that the way to make money as a pilot would to be a stunt performer, and after spending more time in Europe training to do stunts, she officially began her flying career as "Queen Bess." For the next five years, Bessie thrilled audiences all over America with her aerodynamic stunts, including figure eights, loops, and near-ground dips. However, Bessie also used her platform to promote the rights of black Americans and hoped to start her own aviation school for black men and women.
Sadly, Bessie did not live long enough to see that dream come to fruition. On April 30, 1926 Bessie was preparing for an airshow when her plane unexpectedly went into a dive and spin. She was thrown from the plane at 2,000 ft and died instantly when she hit the ground. She was 34 years old.
Bessie may not have lived long enough to see her dream for a black aviation school become a reality, but her fearlessness and determination paved the way for numerous black aviators. She legacy and bravery also continues to serve as an inspiration for black Americans of all ages.