What's Your Prerogative? A Few Minutes of Bible Study - Episode 3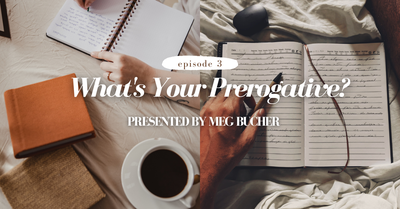 By Meg Bucher, Crosswalk.com
"For you died to this life, and your real life is hidden with Christ in God." Colossians 3:3 NLT
What's your prerogative? It reminds me of the old song that sang, "It's my prerogative. I can do what I want to do …" The problem is that's not how we are created to live. I was looking for a verse to comfort a friend when I came upon Colossians 3:3: "For you died to this life, and your real life is hidden with Christ in God." Death is hard for us. The important phases of grieving and mourning the loss of someone we love and who has loved us well change us. Life is different, moving on without them. Paul wrote to the Colossians to explain the drastic change in life when they chose to follow Jesus. Our earthly prerogative dies, and our new lives in Christ live on to eternity.
Prerogative is an exclusive right, privilege, power, or immunity. Keep those old song lyrics in mind, and try replacing the word prerogative with some of the word's synonyms: immunity, advantage, birthright, claim, choice, exemption, title, authority, and liberty. It begs us to consider what our prerogative really is! The Voice paraphrase of Colossians 3:12-14 reads:
"Since you are all set apart by God, made holy and dearly loved, clothe yourselves with a holy way of life: compassion, kindness, humility, gentleness, and patience. Put up with one another. Forgive. Pardon any offenses against one another, as the Lord has pardoned you, because you should act in kind. But above all these, put on love! Love is the perfect tie to bind these together."
Paul knew society was influencing the Colossians, just as it does today. We may be more modern, but the basic temptations to look back and get stuck in our old lives is the same. His confidence came from the life he lived in Christ. Sometimes, the ways of the world are subtle. If we're not actively pursuing the Truth, we're libel to trip over our old way of thinking. "Real life" is "a holy way of life:" compassion, kindness, humility, gentleness, patience, and forgiveness. Love is our prerogative! "For Paul, it isn't enough just to believe the right things," the Voice paraphrase notes, "Right belief always produces right living. The gift of salvation demands that we put into practice the character of our King." The prerogative of love is the prerogative of Christ, through whom our real lives are hidden in God. The ESV Global Study Bible notes, "Paul uses Isaiah and the Psalm to express the security of believers as they trust in Christ."
Isaiah 49:2: "…He has hidden me in the shadow of his hand …."
Click here for the full article.
Photo Credit: ©SWN Design