Rapper KB Talks Christian Rap, Politics and His New Book, Dangerous Jesus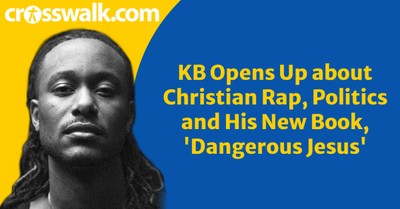 By Michael Foust, Crosswalk.com
Award-winning Christian hip-hop artist Kevin "KB" Burgess is urging the church community to set aside cultural differences and to embrace Christian rap, asserting that mainstream hip-hop is teaching teens and children to "hate Jesus."
"Let's return to that era of seeing Christian hip-hop as a powerful way that we might bring revival," KB told Christian Headlines.
"Think about what we can rejoice over – that the gospel is being preached, churches are being strengthened and people are coming to Christ," he added. "Lean into that."
A three-time Dove Award winner, KB is the author of the new book Dangerous Jesus (Tyndale), where he tackles such issues as race and politics and encourages Christians to follow the "Christianity of Christ" and not the "Christianity of the land." He and other popular Christian hip-hop (CHH) artists, including Lecrae, have been rejected by some corners of conservatism in recent years due to their stances on issues of race.
KB calls himself a "black-conscious conservative."
"I'm far more Christian than I am anything else," he said. He calls it an "absolute shame" to be "so quickly dismissed as woke or liberal."
He is urging Christian families and the church community to set aside their cultural differences with CHH artists.
Read the companion article here.
Video created by Kayla Koslosky
Music courtesy: ©Soundstripe Library
Thumbnail courtesy: ©SWN Design/Tyndale