A Prayer to Remember Our Almighty Ultimate Counselor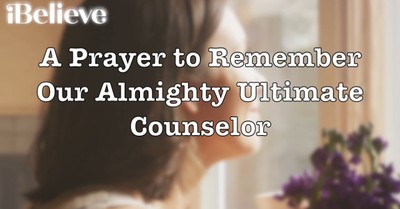 By Chelsey DeMatteis, Crosswalk.com
"And he took him to Jerusalem and set him on the pinnacle of the temple and said to him, "If you are the Son of God, throw yourself down from here, for it is written, "'He will command his angels concerning you, to guard you,' and "'On their hands they will bear you up, lest you strike your foot against a stone.'" And Jesus answered him, "It is said, 'You shall not put the Lord your God to the test.'" And when the devil had ended every temptation, he departed from him until an opportune time." Luke 4:9-13
When I consider this scripture in Luke, I find myself in awe of who God is and what He did for us when He sent His Son, Jesus, into the world. Why, you might ask? Jesus' coming changed the trajectory of life for all of us who are His. The beauty of what took place on the night of Christ's birth should echo in all we as Christians do.
One topic I've always loved to study is the sacred names of God, one of my favorites being Wonderful Counselor. We see this lived out so beautifully in Luke chapter 4 when Jesus is tempted by Satan. This story in scripture is one we cannot overlook. It puts depth and meaning to who God is and what He does for His people.
As I unpack Luke 4 (which I often do), I'm always taken aback at how Jesus shuts down the enemy's temptation. With each rebuttal He gave, it began with, "It is written or it is said". Here we see Jesus in the thick of temptation reciting exactly what God's Word says. What an incredible example this is for us because oftentimes in the throws of a spiritual attack we get overly emotional or too discouraged to speak the Word with authority and send Satan back to where he belongs.
Read the full devotional here.
Video created by Kayla Koslosky.
Stock footage courtesy: ©Soundstripe Library
Thumbnail courtesy: ©SWN Design.Soundstripe Library